Aurora of Doberman Palace weighs: 95 lbs
Aurora of Doberman Palace height: 25 inches
European: Yes
Champion Bloodlines: Yes
Pedigree: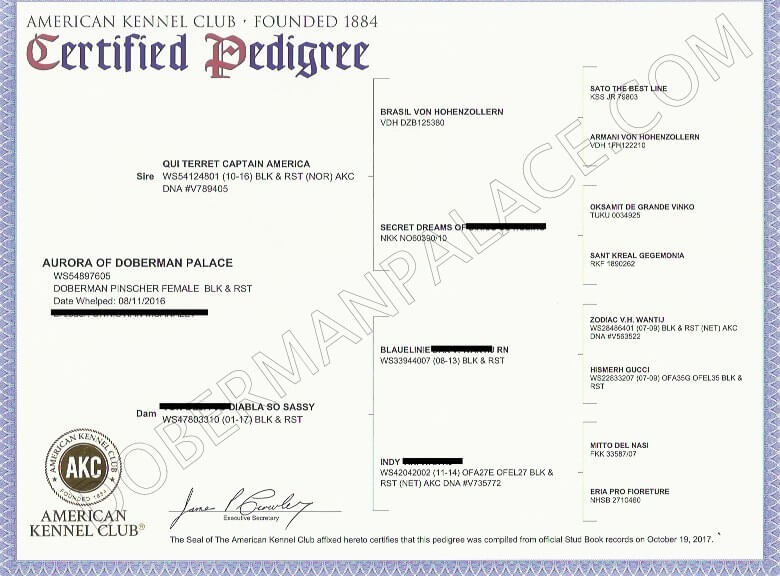 Champion Information:
Aurora of Doberman Palace's Champion starts in the 2nd generation.

Dam side: starts in 3rd Generation with Aurora's Great Grandmother Eria Pro Fioreture (CH) & Great Grandfather Zodiach V.H. Wantij. (international CH.)

Has 199 Champions throughout Aurora's 8th Generations.
Consisting of Champions, Multi. CHs, International CHs, and a Grand CH.

Sire Side: starts in 2nd Generation with Aurora's Grandfather Brasil Von Hohenzollern

Has 178 Champions throughout Aurora 9th Generations.
Consisting Champions, Multi. CH, and Int. CH.

In total Aurora has about 377 Champions throughout 9 generations

Important Champions/bloodlines in Aurora's pedigree

Pimm's Number One Iz Doma Domeni
Oksamit De Grande Vinko
Sant Kreal Gegemonia
Thanks to PedigreeDatabase.com for this information!
Health Exams Certificates:
Health Exams Results:
Temperament:
Alert
Loyal
Confident
Affectionate
Joyful
Playful
Active
Quick
Agile
Energetic
Aurora of Doberman Palace's Grandparents on Dam side Information:
Mother of Delia: Indy V.H. Wantij
Indy V.H. Wantij Results:
Hips: Excellent
Elbows: Nomal
Eyes: Clear
Father of Delia: Blauelinie Dax V. Wantij RN
Blauelinie Dax V. Wantij's Results:
Hips: Good
Elbows: Normal
To obtain references, reviews, photos of the puppies in their new homes and much more please visit our social medias, Facebook & Instagram. Click on the social media logo above to visit our social media.
The requirement to buy a puppy from us is having knowledge about the breed and also read the pages under the Resources tab of "Before Buying a Puppy from Us"
Q: Do you guys require an appointment to see the puppies?
A: Yes, Husky Palace/Doberman Palace do require you guys to make an appointment. No walk-ins. Some people make an appointment a week or a day in advance. However, some people have called in the morning and are able to come that same afternoon. We are normally available Monday to Saturday all day (yes, you can even come at 10 pm if you have to). On Sunday Anderson, SC, and Sanford, NC only has some hours that we are available. Since we attend mass these days.