Our Sweet Babies!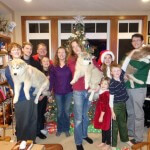 We adopted three sweet babies from three separate litters in October from HuskyPalace (Asher, Smolder, and Ember). The breeder was so helpful with answering questions and making sure we were being matched with the right puppies for our home. We are so pleased with their sweet personalities, good manners, and loving little hearts. They are a wonderfully fun part of our large family and we all love them so much! It's hard to resist the urge to adopt another one!!?
Our Family Is Now Complete!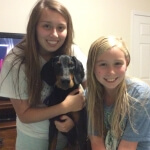 We got our male Doberman "Loki" from the Husky Palace this past June. Such a wonderful experience! We still are in contact with them sending regular updates on our boy! Thinking about getting a girl …..?
Rosie stole my heart!
My husband & I decided we wanted an AKK; he fell in love with little Prince Manny, but I fell in love with little Rosie. We decided to get both! They are half brother and sister (we fixed them), and love each and and play like true siblings! They also have made the rest of our pack their own as well (Rosie especially loves her pitbull Zeus, and Manny likes to play with Winchester our cat). Having 2 puppies at the same time has been quite a handfull- but sooo worth it! They love and snuggles they give us Everytime we come home makes all the hours of training and money spent well worth it! Italy has been amazing in answering all my questions over the last year. These puppies were truly taken well care us and given plenty of affection prior to making us their new humans!
Reputable Breeder
I have an Instagram account, @godspups, in which I feature pups and reputable dog breeders. With all the research I have done on Husky Palace I can strongly say they are reputable breeders. I have looked into the breeds Husky Palace breeds and other breeders who breed the same dogs; Husky Palace beats them every time. They are great breeders who truly care about their pups, the breed, and the public. 🙂 Keep up the great work Husky Palace. We need more reputable breeders like you guys. God bless you and your dogs.
Dakota & Simba
I bought a Siberian Husky puppy from them in 2006 named Dakota.Husky Palace made sure I got paired with the pup I was looking for. A not talkative, active, and loving Siberian Husky puppy. They informed me with some puppies that fit the description. I ended up choosing Dakota since he was a good looking fella. Dakota and I become great pals within the first few days with him at his new house. Husky Palace checked on us to see how we were doing (I think that was a kind and loving gesture). Months passed and I will send them photos and videos of the boy! He loves to hike and snowboard. 🙂 Years passed and we are still in contact with Husky Palace. I consider them as part of my family now. Then in 2011, Dakota was 5 years old, I wanted another dog. But I didn't want another Siberian husky (not saying I do not love the breed). I grew up with Doberman Pinschers and wanted to add one to my family. However, before starting the hunt to look for reputable Doberman Pinscher breeders I contact Husky Palace and informed them that I am going to welcome another family member and that the new member was going to be a Doberman Pinscher. Guess what you guys!? They just started to breed Doberman Pinschers in 2010! I was so happy that the breeder of Dakota was also breeding Doberman Pinscher (only had two Dobermans for breeding). So same process as last time. I then soon got a Doberman Pinscher from them called Simba. So now I have Dakota, 11 years old, and Simba, 6 years old. They are both great pals! Even though Dakota is older but still loves playing with Simba and myself. 🙂 After all of these years, I have nothing but good reviews about Husky Palace/Doberman Palace. Always there before getting these two pups and after. They are always asking, "How are Dakota and Simba?" or "Any new updates?". Additionally, I never had any health issues with neither of them. No fleas, worms, genetic problems, etc. My vet is always saying they are in great health (my veterinarian and a staff have brought pups from them). I am just glad I found them! God bless.
Rios Family Loves Their New White Husky
I am very satisfied with the quality of dog I picked up for my family. We picked a solid white female Siberian Husky and Named her Mila. My kids absolutely adore her and she is very well mannered and loves to play with her new family. I highly recommend picking up a puppy form Husky Palace.