This Doberman Pinscher litter has found their forever homes. You may learn about the upcoming litter by clicking here.
We have been breeding this bloodline for 13 years (since 2010).

All of these pups are pet-only and have an international prepaid microchip. The mother, Meredith Gray, is 3rd generation of Doberman Palace. We had her great-grandparents and parents. These pups are champion and European bloodlines.

This litter is named after cities in Pennsylvania. The father, Rambo, was directly imported from Europe (Serbia). The breeder informed me they will be mailing me the exported pedigree in February. However, I have not received it. Since I am not sure if I will receive the paperwork in time, I decided to drop the adoption fee. $1,000 less. Therefore this litter will not be able to be registered with AKC.

Date of birth: February 26th, 2023……..Available Now!
CHAMPION DOBERMANS FOR SALE
You may pick up the pup from our house. No fee.

We can deliver the pup up to a 3-hour drive (one way) for an additional fee.

Shipping is an option. I can fly with the puppy ($900+).  Or s/he can fly via cargo ($700 to $1,000).
Elbow: 6 family relatives with Elbow Exam (Normal)
Hip: 25 family relatives with Hip Exam (Good & Excellent)
Thyroid: 2 family relatives with Hip Exam (Normal)
vWD: 6 family relatives with vWD Exam (clear/free)
Cardio & DCM: 8 family relatives with Cardio & DCM Exams (Negative/Free)
Eye: 1 family relative with Eye Exam (Clear)
Wobbler Syndrome: 1 family relative with this exam (Negative)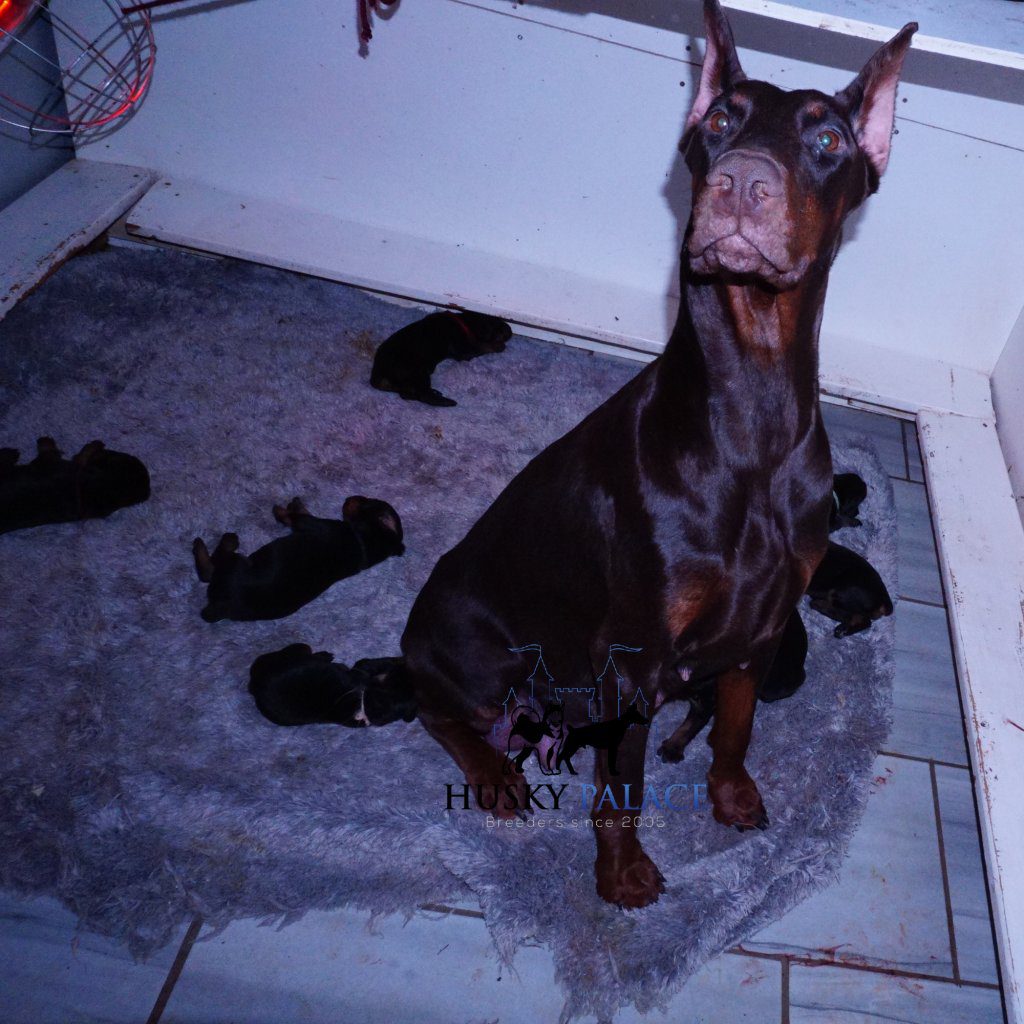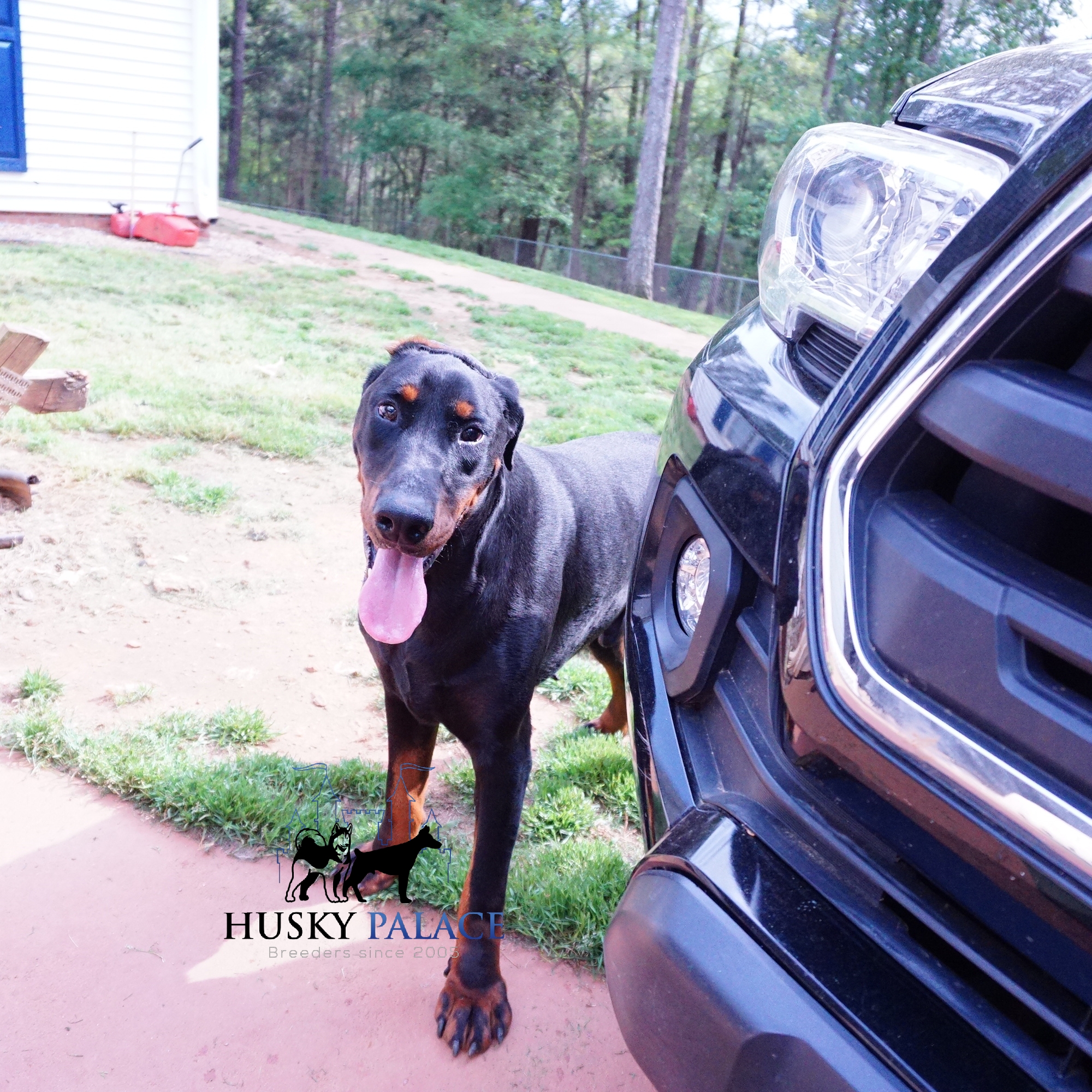 OUR CHAMPION DOBERMANS WILL COME WITH THE FOLLOWING:
Health record (UTD on shots, deworming, and flea prevention)
Free 30 day Pet Insurance

Training to not jump on people

Working on house training and crate training

Puppy Informative Brochures
Name: Harrisburg (puppy #: 2)

Quick Description: I have the typical Dobe energy. I am a super affectionate baby. I LOVE being with Italy and Bali. If we are outside, I enjoy looking at the flowers. Sometimes lick and bite them. Nature is beautiful. My favorite toys are plush toys. Especially if they make a crunchy sound. Also, when Italy (the breeder) places the bandanna on me, I sit and patiently wait. Once done, she gives me a kiss and says "good boy". I then proceed to play. :) Just trying to make her life easier. I weighed 25 lbs on June 2nd. :)

**Was picked up by the Haynes family from Seneca, SC 29678**
Name: Pittsburgh (puppy #: 1)

Quick Description:I have the typical Doberman energy. I am also vocal. When I was younger, Italy (the breeder) tend to grab one of us when she watches a show. I talk. I wanted to be back with my mother. Meredith Gray was not happy either. She did not see Italy grab me (she places my hands over her eyes). However, my barking and growling sure got her attention. Now, I enjoy using my voice. I use it when I am playing. Barking at the ball. Slapping it around. When I was microchipped and received my first vaccine, I let the breeders know I was not happy. My favorite toy at the moment is the ball that has a rattle in it. It is also my sister's favorite toy. We are constantly stealing the ball from each other. :) I am a chunky baby. I weighed 30 lbs on June 2nd. The biggest!

**Was picked up by the Essick family from Jacksonville, FL 32218**
Name: Philadelphia (puppy #: 29)

Quick Description: I am Italy's (one of the breeders) favorite of the litter. I am the most protective and outgoing of the pack. If I hear a noise that I am unfamiliar with, I will be the first to bark and growl. Letting the intruder know, I will protect my family. Then I notice it was Italy. I will go running to her. Give her kisses and continue exploring. I am the first to leave the whelping box. Italy left the door open. After a while, I walked out. Started to explore the bedroom. Said hello to the Minni (a chihuahua mix). Inspecting if the place is safe. Then letting my siblings know to come out. They did not wait…they were already walking out. Geeze. I was trying to keep them safe. If you are looking for a super-protective Dobe (all Dobes are protective), I am the baby.

**Reserved for the Lloyd family from Pelzer, South Carolina 29669**
Name: Pennsylvania (puppy #: 28)

More Information: I have typical Doberman energy. I just want to provide you with a lot of love. Which will consist of kisses on your face and hands. I also enjoy belly rubs. My favorite toy is the ball that has a rattle in it. You will see me taking it away from my sibling in the video and walking around with it in my pics. I am ready to bring a lot of joy to my forever family. I weighed 37 lbs on July 8th!

**Was picked up by the Rhyne family from Atlanta, GA 30340**
Name: Scranton (puppy #: 21)

**Reserved for the Mulic family from Snellville, Ga 30078**
Name: Allentown (puppy #: 21)

Quick Description: I am a sweetheart! I am one of the most affectionate of the litter. I am also goofy. As you can tell in my pics. If you are looking for a companion that will make you laugh and feel so love then I am the baby for you! I LOVE boxes. I love to stand, sit, and bit them. My favorite toy. ❤️ My favorite spot to sleep, is on something soft. Blanket or my bed. My crazy siblings will sleep anywhere. On the hard floor. Crazy siblings. I prefer to be comfortable.

**Was picked up by the Nguyen family from Charlotte, NC 28277**Their 2nd puppy from us**
**Reserved for the McCann family from Beaufort, SC 29907**
The requirement to buy a puppy from us is having knowledge about the breed, fill out the questionnaire, and also reading the pages under the Resources tab of "Before Buying a Puppy from Us".
All we ask is for updated pictures throughout the lives of our puppies as we grow attached to each one and really get to know them on a very intimate level due to our nurturing practices.