Chesapeake – Gray/white Siberian Husky
Here are photos of our Gray/white Siberian Husky puppy, Chesapeake. You can see photos of her when she was a few days old to the most recent pics. We hope you guys enjoy these cute puppy pictures.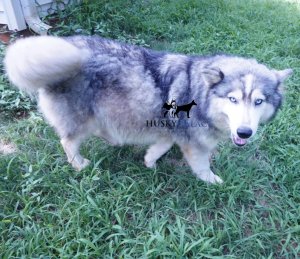 Reason for return?: The former family did not give her time to adjust to them. It takes 3 days for the pup to stop feeling overwhelmed. It usually takes 3 weeks for a pup to settle in their forever home.

Training: We are working with house training. She is doing well if you follow the schedule. Crate training is good. To not jump on people, she is doing great.

Does she get along with another dog (s)? Yes! She loves them. Gets along with all the doggies here.

What toys does she love?: Enjoys plush toys.

Does she get along with cats?: The former family nor us, have cats. Therefore we are unsure how she will interact with one.

More info: She is looking for a family that has other doggies. Preferably other Huskies or a medium breed.