Mulan of Husky Palace Weight: 65 lbs
Mulan of Husky Palace: 21 inches
Mulan's Type of Coat: Wooly
Pedigree: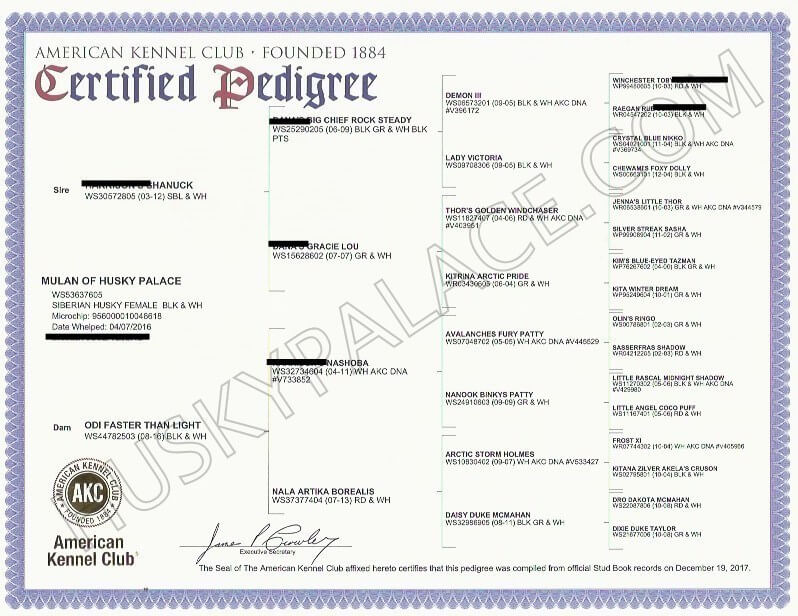 Temperament:
Alert
Affectionate
Agile
Friendly
Joyful
Gentle
Playful
Outgoing
Intelligent
Lively
The requirement to buy a puppy from us is having knowledge about the breed, filled out the questionnaire, and also read the pages under the Resources tab of "Before Buying a Puppy from Us".
Q: What is the difference between limited and Full AKC registration?
A: Limited Registration means pet only. Thus you can not use the pup/dog for breeding (offspring of a dog with "Limited" AKC is not eligible for AKC Registration). Your puppy/dog can still be registered with the AKC (American Kennel Club). The puppy is still eligible for some show events if you decide you want to show your dog.
"Full" AKC is just like it sounds, the puppy/dog is eligible for all AKC Breed show events and its offspring can be registered with the AKC when it is bred with another dog of the same breed that is also registered with "Full" AKC reg. For Full registration, you must fill out the Full AKC application Once you fill the application out and you are approved you will have to pay the Full AKC Fee.
Quote:
"Dogs are the only things on earth that loves you more than he loves himself."