Sarafina of Husky Palace's Information:
Weight: 52 lbs
Height: 20 1/2 inches
Type of Coat: Plush
Color: Black/white
Pedigree: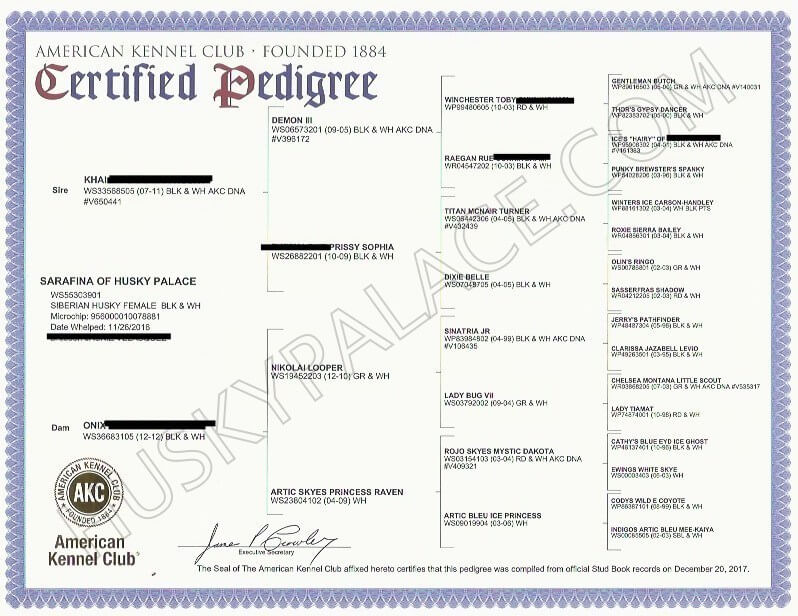 Temperament:
Alert
Active
Affectionate
Agile
Friendly
Intelligent
Joyful
Gentle
Playful
Fun Facts:
Always want a buddy.
Award: The Most Playful of The Pack
To obtain references, reviews, photos of the puppies in their new homes and much more please visit our social medias, Facebook & Instagram. Click on the social media logo above to visit our social media.
The requirement to buy a puppy from us is having knowledge about the breed, filled out the questionnaire, and also read the pages under the Resources tab of "Before Buying a Puppy from Us".
Q: Do you guys require an appointment to see the puppies?
A: Yes, Husky Palace/Doberman Palace do require you guys to make an appointment. No walk-ins. Some people make an appointment a week or a day in advance. However, some people have called in the morning and are able to come that same afternoon. We are normally available Monday to Saturday all day (yes, you can even come at 10 pm if you have to). On Sunday Anderson, SC, and Sanford, NC only has some hours that we are available. Since we attend mass these days.
Quote:
"Dog just needs you and love, that's all."