Mufasa of Husky Palace's Information:
Weight: 75 lbs
Height: 24 inches
Type of Coat: Super Wooly
Champion Bloodlines: Yes
Color: Solid White
Eye Color: Blue
Pedigree: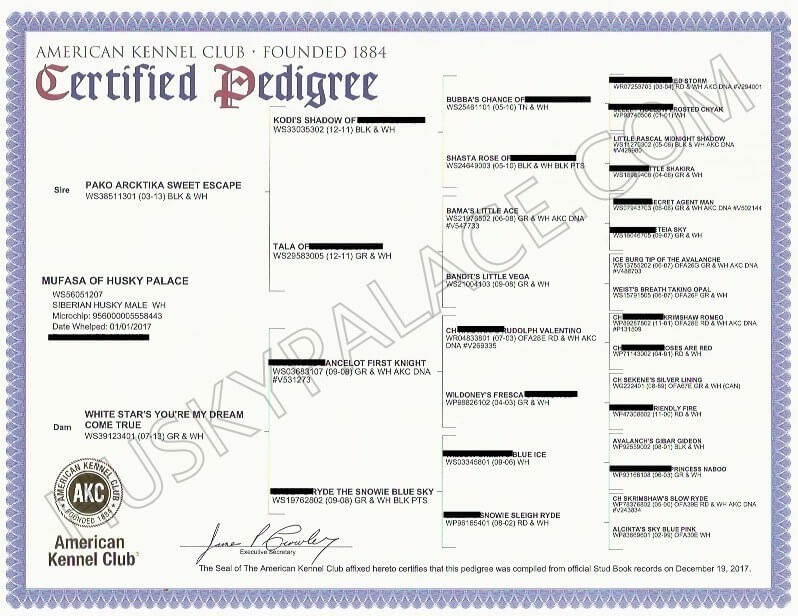 Champion Bloodlines:
Mufasa of Husky Palace Champions (CH) starts in the 3rd generation.

Dam side: starts in the 3rd generation with Mufasa's Great Grandfather Kristari's Rudolph Valentino. He is a USA CH.

Has 138 Champions throughout Mufasa's 6 Generations.
Consisting Champions (USA, Canada, Mexico, & AKC)

In total Mufasa has about 138 Champions throughout 6 generations

Important Champions/bloodlines in Mufasa's pedigree

Kristari bloodlines
Sekene's Silver Linning
Thanks to PedigreeDatabase.com for this information!
Temperament:
Affectionate
Friendly
Joyful
Loyal
Gentle
Obedient
Playful
Intelligent
Fun Facts:
Likes to have a buddy.
Doesn't like to be groomed.
Doesn't like bath time.
Loves to be petted all the time. Don't you think about stopping!
Award: The Biggest Teddy Bear of The Pack
To obtain references, reviews, photos of the puppies in their new homes and much more please visit our social medias, Facebook & Instagram. Click on the social media logo above to visit our social media.
The requirement to buy a puppy from us is having knowledge about the breed, filled out the questionnaire, and also read the pages under the Resources tab of "Before Buying a Puppy from Us".
Q: Do you guys offer stud services?
.A: No, we do not offer any stud services. We personally do not like stud services. Since one is not aware of what the other dog can have. They might have STIs. Yes, STIs are a real part of a dog's life. Or what if the other dog has fleas. Or what if they have any other health concerns. Too many what ifs to breed a dog. We only breed our females with our males.
Quote:
"A lover will give you a kiss. A friend will give you a hug. But a dog will give you his heart."