Pearl XVIII's Weight: 45 lbs
Pearl XVIII's Height: 20 1/2 inches
Pearl XVIII's Type of Coat: Plush
Pedigree: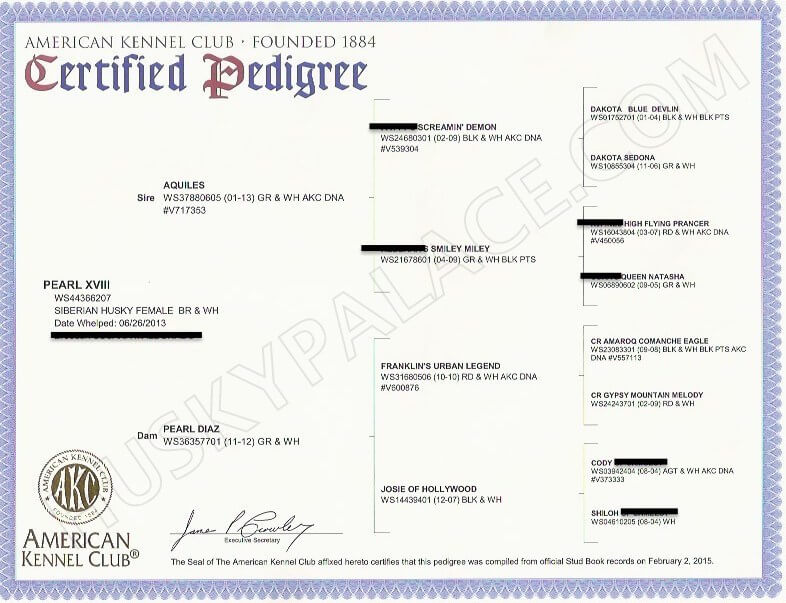 Temperament:
Affectionate
Agile
Active
Courageous
Confident
Devoted
Friendly
Fearless
Faithful
Intelligent
Loyal
Lively
Joyful
Outgoing
Playful
Quiet
Quick
To obtain references, reviews, photos of the puppies in their new homes and much more please visit our social medias, Facebook & Instagram. Click on the social media logo above to visit our social media.
The requirement to buy a puppy from us is having knowledge about the breed, filled out the questionnaire, and also read the pages under the Resources tab of "Before Buying a Puppy from Us".
Q: What is the difference between a standard, plush, and wooly coat Siberian Husky?
A: Maintenance of coats vary by length, so be sure if you want a wooly coated Siberian Husky that you are willing to keep up with it.
A standard coat Siberian Husky is when her/his outer guard hair is between 1 inch to an inch and half in length. Their fur seems to look flat and thin.
The plush coat is between the standard and wooly coat. Not flat nor fluffy. Just in the middle. The length of their outer guard coat hairs tends to between an inch and a half to 2 inches.
The wooly coat simply means a slightly longer, thicker, much fluffier coat than the average coat for a Siberian Husky. Their outer guard hairs are longer than 2 inches.
Quote:
"Dog just needs you and love, that's all."