Porsche of Husky Palace's Weight: 50 lbs
Porsche of Husky Palace's Height: 20 1/2 inches
Porsche of Husky Palace's Type of Coat: Plush
Pedigree: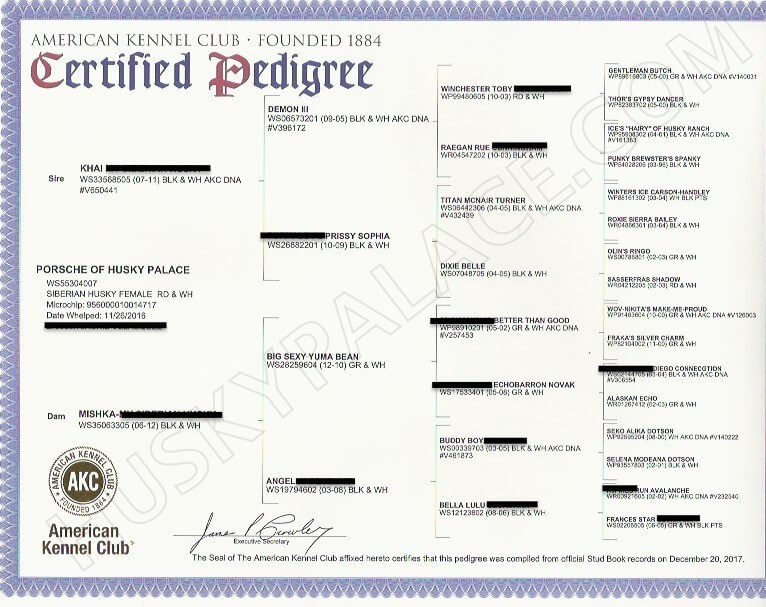 Temperament:
Alert
Agile
Quick
Active
To obtain references, reviews, photos of the puppies in their new homes and much more please visit our social medias, Facebook & Instagram. Click on the social media logo above to visit our social media.
The requirement to buy a puppy from us is having knowledge about the breed, filled out the questionnaire, and also read the pages under the Resources tab of "Before Buying a Puppy from Us".
Q: Can you explain more on the fee of the AKC full registration (breeding rights)? When do I, the potential parent, need to tell you I want breeding rights?
A: For AKC full registration you will have to let us know before we shipped the pup or you picked up the pup. We will only charge you the original fee. If you are not 100% sure if you want to use your pup for breeding then you can wait. However, there will be a late fee, $200. The late fee is applied when you did not inform us before we shipped or you picked up the pup. Even if you decided the next day. Since we have to do more work to help you get AKC full registration. If you wait and you registered your pup then the original fee will be doubled and the late fee will be applied. We have to do much more work (more forms) to revoked AKC limited registration (pet only).
For example, let's say the original fee* is $600. You decided a year later to use your pup for breeding and you registered him/her. Thus the AKC full registration will now be $1,200 + $200 = $1,400.
For the Siberian Huskies, the AKC full registration original fee is the same for all the pups.
For the Doberman Pinschers, the AKC Full registration original fee is different for each pup. However, none of our Doberman Pinschers will be AKC full registration for less than $2,000 (the original fee and the pup).
*the original fee can change. Thus whenever you informed us you want AKC full registration we will charge you the fee we are charging at the time.
Quote:
"Dog just needs you and love, that's all."