We have been breeding this bloodline for 17 years (since 2006).

All our pups can be AKC registered (pet only) and have an international prepaid microchip.

This litter is named after the Denver Nuggets Basketball Team. :)

The expected average weight for this litter should be 62.67 lbs. This is based on previous litters.

Date of birth: June 8th, 2023……..Available Starting: July 27th, 2023
AVAILABLE HUSKY PUPPIES IN THIS LITTER
Date of birth: June 8th, 2023

More Info: We have been breeding this bloodline for 17 years (since 2006). Within this bloodline, there are 7 dogs with OFA exams. They all passed their exams. Which means they had no health issues.

Quick Description: I have the traditional Siberian Husky energy. I enjoy playing in the front yard with my brother. If I am not playing tag, I am playing with a toy. I also like to grab a branch and thrash it. :) Love seeing the leaves shake.
You may pick up the pup from our house. No fee.

We can deliver the pup up to a 5-hour drive (one way) for an additional fee.

Shipping is an option. The puppy can fly by him/herself ($800 to $1,200) or we can fly with the puppy ($900+).
Within this litter bloodline, there are 7 dogs with OFA exams. The following is the breakdown.:
Hips: 2 family members with OFA Hip exam (Good; no signs of hip dysplasia).
Eyes: 5 family members with OFA Eyes exam (Normal; no signs of eye issues).
Elbows: 2 family members with OFA Elbow exam (Normal; no signs of elbow dysplasia).
Our For sale husky puppies will come with the following:
Health record (UTD on shots & deworming)
Blanket (has the scent of the mother, siblings, and us)

Puppy food sample (Diamond puppy)

Free 60-day Pet Insurance

Working on house training, crate training, and to not jump on people

Puppy Informative Brochures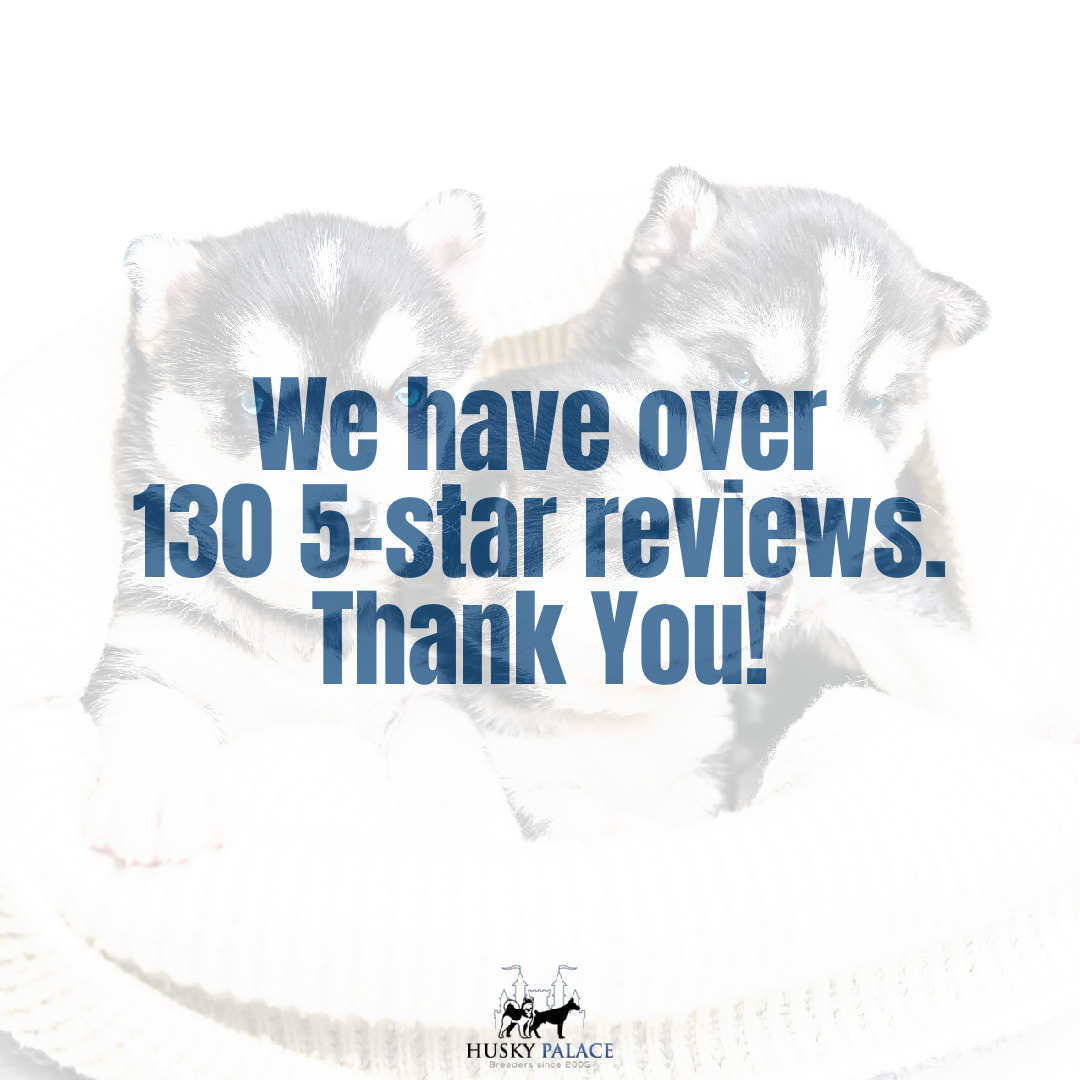 Type of Coat: Plush or Wooly

**Reserved for the Cox family from Palm Bay, FL 32908**
The requirement to buy a puppy from us is having knowledge about the breed, filled out the questionnaire, and also read the pages under the Resources tab of "Before Buying a Puppy from Us".
All we ask is for updated pictures throughout the lives of our puppies as we grow attached to each one and really get to know them on a very intimate level due to our nurturing practices.